Use innovative technologies
to provide cutting-edge service quality

Protection of Customer Privacy
All Group and subsidiary employees strive to protect customer privacy and confidential information. We regularly review our corporate management mechanisms for privacy rights, issue relevant announcements, and implement training courses to enhance our corporate sustainability and demonstrate our commitment to sustainable management.
For example, Unikorn codes client operations to prevent leaks or unintentional disclosures of confidential client information. Emails sent to clients must be marked with client codes before they can be delivered. Our system ensures consistency between attached files and email content to prevent discrepancies between recipients and human errors that may result in competing clients receiving the same information. The system also prevents competing clients from being listed as recipients in the same email to prevent erroneous deliveries.
Additionally, to protect important client information, project managers are required to review all information access requests before relevant procedures can be initiated. Those who have business dealings with us that involve integrity and confidentiality of information assets are required to sign confidentiality statements and non-disclosure agreements regarding client information to ensure they understand that all information obtained during the course of their dealings with us are corporate assets which cannot be used for other purposes without authorization so we can maintain protection of customer privacy.
√ We received no complaints relating to infringement of client privacy rights or client information losses in 2022
Customer Relationship Management
All Group subsidiaries provide upstream and downstream LED products and integrated services to meet the different product design needs of our clients. We adopt an attitude of mutual assistance and advancement, and use our rich knowledge of the industry, precise insights, and innovative production technologies to support the diverse needs of our many collaboration partners. We provide the most appropriate collaborative plans based on different client needs, continue to enhance client satisfaction, and strengthen client partnerships.
To ensure effective communication and information exchanges between us and our clients, we have established internal "Client Communication Management Procedures," "Client Satisfaction Investigation Procedures," "Client Complaint Handling Procedures," and other related regulations. We use systemic and unified communication modules and processes to enhance client services and serve as a reference for formulating production and marketing plans, product development and improvement, and promotion strategies.
Client Satisfaction Surveys
To better understand client needs and problems for enhancement of service quality, we conduct annual client satisfaction surveys to understand customer perceptions, expectations, and suggestions for Group service and product quality. We also analyze survey data for follow-up and proposal of improvement plans from various internal units, following which the results of customer satisfaction surveys are used as a reference for corporate strategic plans.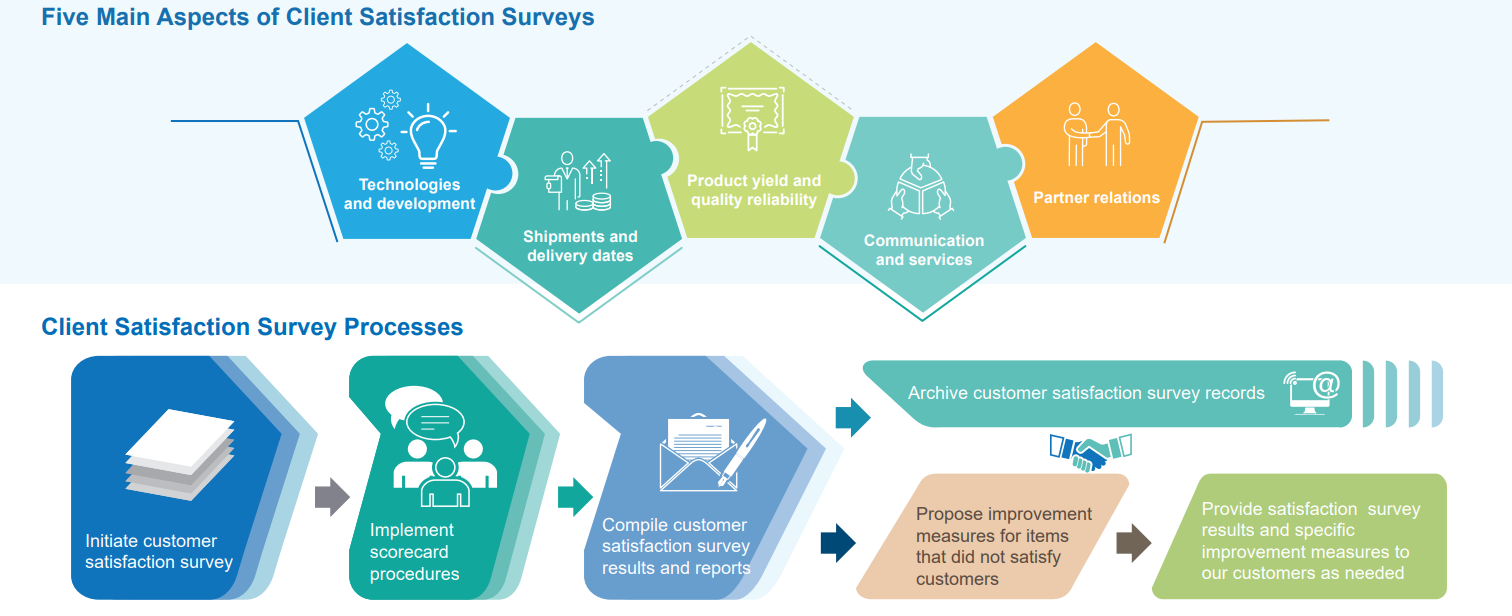 Customer Complaints and Return Policies
We continue to promote quality improvements and innovative actions in accordance with our quality policies to meet client needs and enhance client satisfaction. Our business units immediately initiate internal processes after receiving client communications related to abnormal product quality. We arrange subsequent product returns and shipping after determining relevant responsibilities, and also provide analysis reports.
√ We provided timely responses and countermeasures to all product-related customer complaints received in 2022. The effectiveness of all countermeasures for customer complaints have been confirmed and abnormalities did not reoccur.
Client Complaint Handling Process Diagram